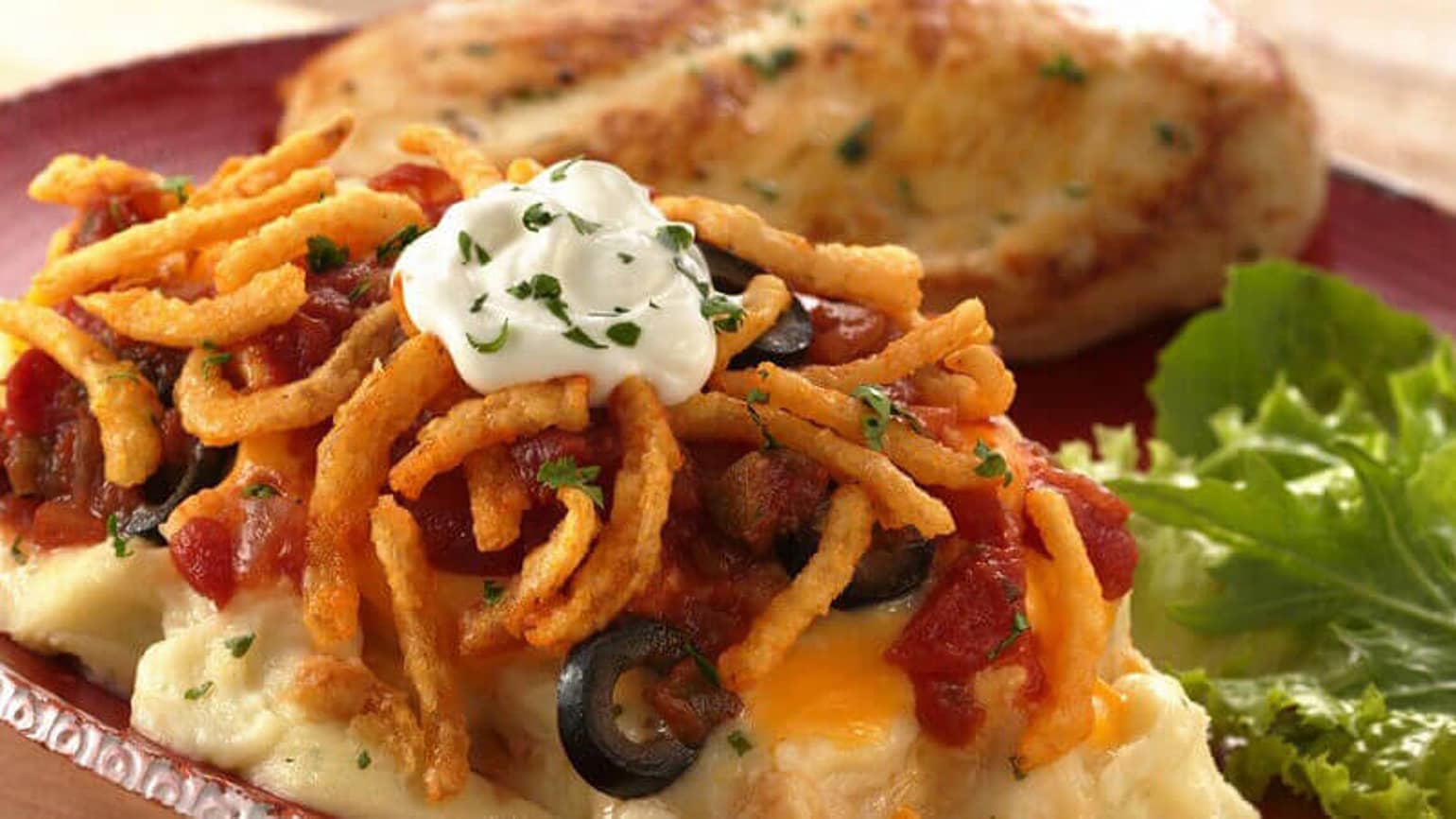 Mashed Potatoes Ole
Sassy potatoes can be made simply with the addition of salsa and a few other flavourful ingredients.
Ingredient List
1 box Betty Crockerᵀᴹ Roasted Garlic Mashed Potatoes
2 1/2 cups (625mL) hot water
1 1/3 cups (325 mL) milk
1/4 cup (50 mL) margarine or butter
1 1/2 cups (375 mL) canned French-fried onions
3/4 cup (175 mL) shredded Cheddar cheese
3/4 cup (175 mL) Old El Pasoᵀᴹ Salsa (any variety)
1 1/2 cups (375 mL) sour cream
1 1/2 cups (375 mL) shredded Cheddar cheese
3 tbsp (45 mL) sliced ripe olives or Old El Pasoᵀᴹ Chopped Green Chilies, if desired
Sour cream, if desired
Chopped fresh cilantro, if desired
Preparation
Heat oven to 425ºF. Make potatoes as directed on package for 2 pouches (8 servings), using hot water, milk and margarine. Stir in 3/4 cup of the onions.
Spread mixture in ungreased 2-quart baking dish. Sprinkle with cheese. Spread salsa over cheese. Top with olives and remaining onions.
Bake uncovered 3 to 5 minutes or until onions are golden. Serve with sour cream and cilantro.
Expert Tips
Choose the salsa that fits your family's taste, from extra mild to hot.
A 2-quart baking dish can be an 8-inch square glass dish or a glass or ceramic 2-quart casserole.