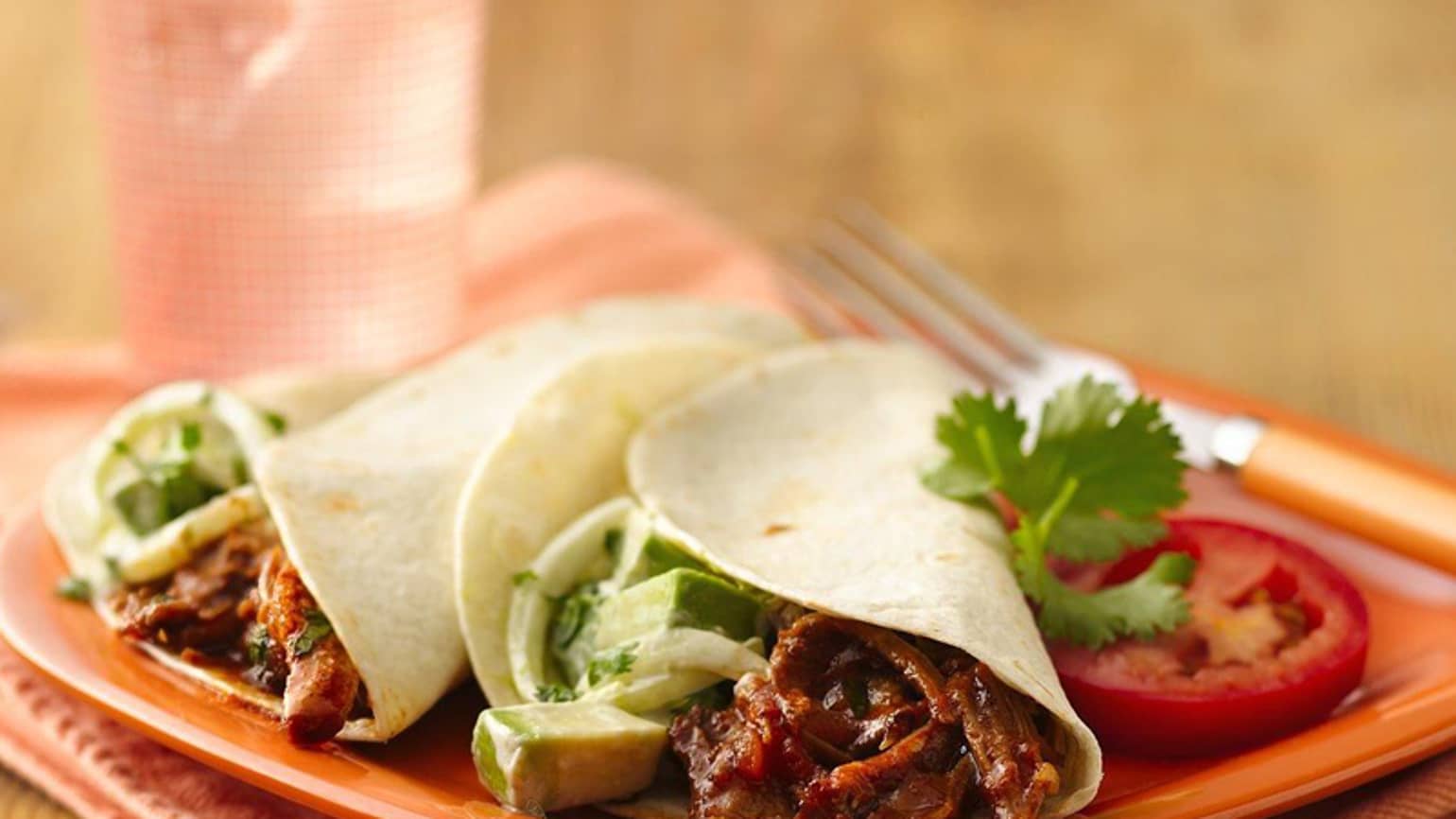 Slow Cooker Fajita Pulled Pork Sandwiches with Avocado Onion Slaw
Take the best of two Latin favourites: slow-cook pork to juicy perfection, shred, then serve fajita-style with a sultry avocado-onion slaw.
Ingredient List
1 tbsp (15 mL) vegetable oil
1 lb (500 g) boneless pork shoulder roast, trimmed
1/2 cup (125 mL) halved and thinly sliced onion
1 pkg (8 large) Old El Pasoᵀᴹ Smart Fiestaᵀᴹ made with Whole Grain Tortillas
1/4 cup (50 mL) chopped cilantro
3/4 cup (175 mL) Old El Pasoᵀᴹ Thick N' Chunky Mild Salsa
1 tsp (5 mL) chili powder
3/4 tsp (3 mL) ground cumin
3 tbsp (45 mL) mayonnaise or salad dressing
1 tbsp (15 mL) white vinegar
1 medium avocado, cubed
Preparation
Spray 4-quart slow cooker with nonstick cooking spray. In large skillet, heat oil over medium heat. Cook pork in oil 6 to 8 minutes or until brown on both sides. Place pork in slow cooker. Cover; cook on Low heat setting 7 to 8 hours or until pork pulls apart easily with fork.
Remove pork from slow cooker; shred pork. Reserve 1/4 cup liquid in slow cooker; discard remaining liquid. Stir pork, salsa, chili powder and cumin into liquid in slow cooker.
In medium bowl, stir together mayonnaise, vinegar and salt. Gently stir in avocado and onion. To serve, place pork in tortillas; top with avocado-onion slaw and chopped cilantro.
Expert Tips
The avocado-onion slaw adds creaminess as well as crunch, but for those who are not avocado fans, try substituting diced tomato or shredded lettuce in its place.
If you have no chili powder or cumin on hand, substitute 1 3/4 teaspoons Old El Paso* Smart Fiesta* Sodium Reduced Taco Seasoning Mix in their place.