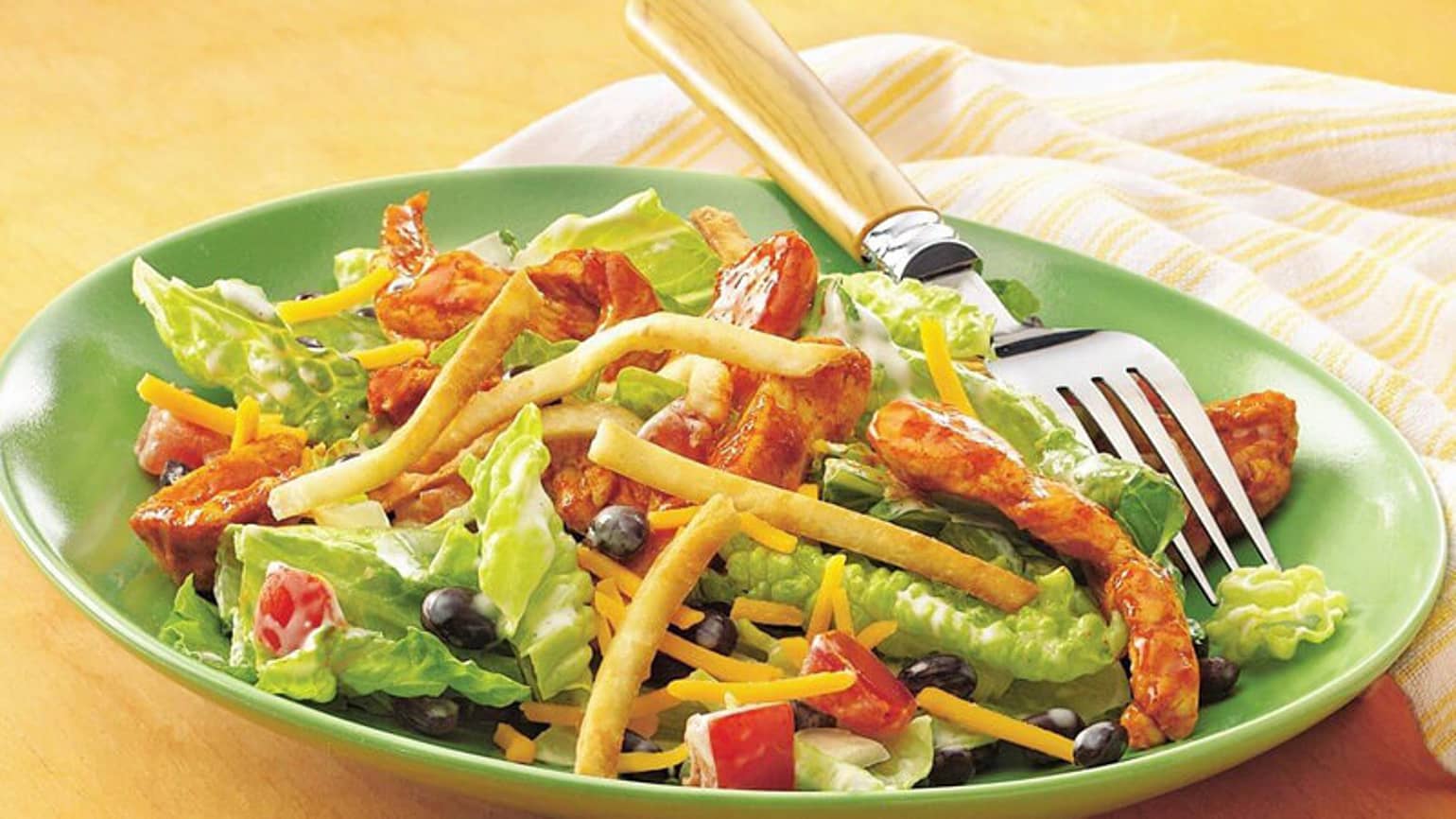 Taco-Seasoned Chicken Salad with Crispy Tortilla Topping
Enjoy a twist on traditional chicken salad in a recipe featuring fresh Mexican flavours and crisp tortilla strips.
Ingredient List
2 tsp (10 mL) vegetable oil
2 Old El Pasoᵀᴹ Smart Fiestaᵀᴹ made with Whole Grain Tortillas, cut into thin strips
4 boneless skinless chicken breasts, cut into thin strips
1 pouch Old El Pasoᵀᴹ Smart Fiestaᵀᴹ Reduced Sodium Taco Seasoning Mix
1/4 cup (50 mL) water
4 cups (1 L) mixed salad greens
3/4 cup (175 mL) chopped tomato
1/3 cup (75 mL) chopped onion
1 can (19 fl oz/ 540 mL) black beans, drained, rinsed
1/4 cup (50 mL) low fat ranch dressing
1 cup (250 mL) shredded reduced fat Cheddar cheese
Old El PasoTM Thick N' Chunky Salsa
Preparation
In large skillet, heat 1 tsp of the oil over medium-high heat. Add tortilla strips; cook 6 to 8 minutes, stirring frequently, until crisp and golden brown. Remove from skillet; set aside.
To same skillet, add remaining 1 tsp oil and the chicken; cook and stir over medium-high heat until chicken is no longer pink in centre. Stir in taco seasoning and water; cook 2 to 4 minutes, stirring frequently.
Meanwhile, in large bowl, gently toss salad greens, tomato, onion, beans and dressing. Spoon salad mixture onto individual serving plates.
Arrange chicken over salad; sprinkle with cheese and tortilla strips. Serve with salsa.