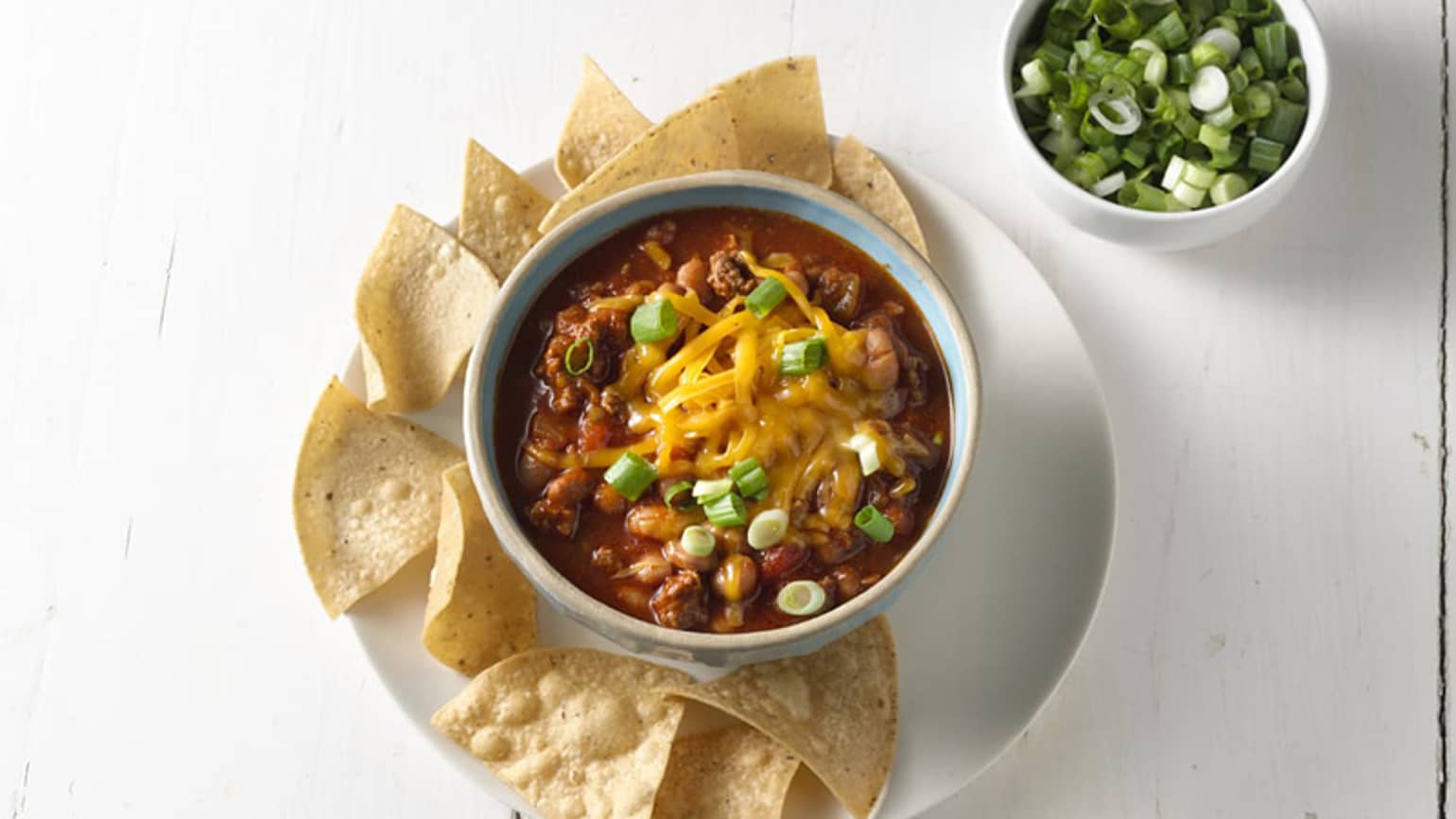 Big Batch Chili-In-The-Oven
Football fans will cheer when you kick your party off with this super chili. And, the pre-game prep is easy - cook and serve in one dish.
Ingredient List
2 lbs (1 kg) lean ground beef, chicken or turkey
2 jars (each 650 mL) Old El Paso* Thick N' Chunky Salsa
2 cans (each 19 oz/540 mL) kidney beans or black beans, drained and rinsed
4 cups (1 L) water
2 pouches (each 39 g) Old El Paso* Chili Seasoning Mix
1 cup (250 mL) long grain rice
2 cups (500 mL) shredded Cheddar or Monterey Jack cheese, divided
sliced green onions and shredded Cheddar cheese if desired
Preparation
Heat oven to 350°F (180°C). Brown beef in Dutch oven or large saucepan over medium-high heat; drain.
Add salsa, beans, water and chili seasoning mix. Bring to a boil and stir in rice.
Spoon into two 9x13-inch (23x33 cm) rectangular baking pans. Cover and bake for 30 minutes.
Into each pan, stir in 1 cup (250 mL) of the shredded cheese. Bake, uncovered for 5 minutes until rice is tender and cheese is melted.
Top with additional cheese and green onion if desired.
Expert Tips
Kitchen Tips: Turn up or down the heat by choosing mild, medium or hot Old El Paso* Thick N' Chunky Salsa.
Time Savers: Make Ahead: Assemble, refrigerate up to 24 hours and add 10 minutes to baking time.
Freeze: Cool before freezing. Freeze in individual containers or as a whole casserole. Freeze upto 3 months.