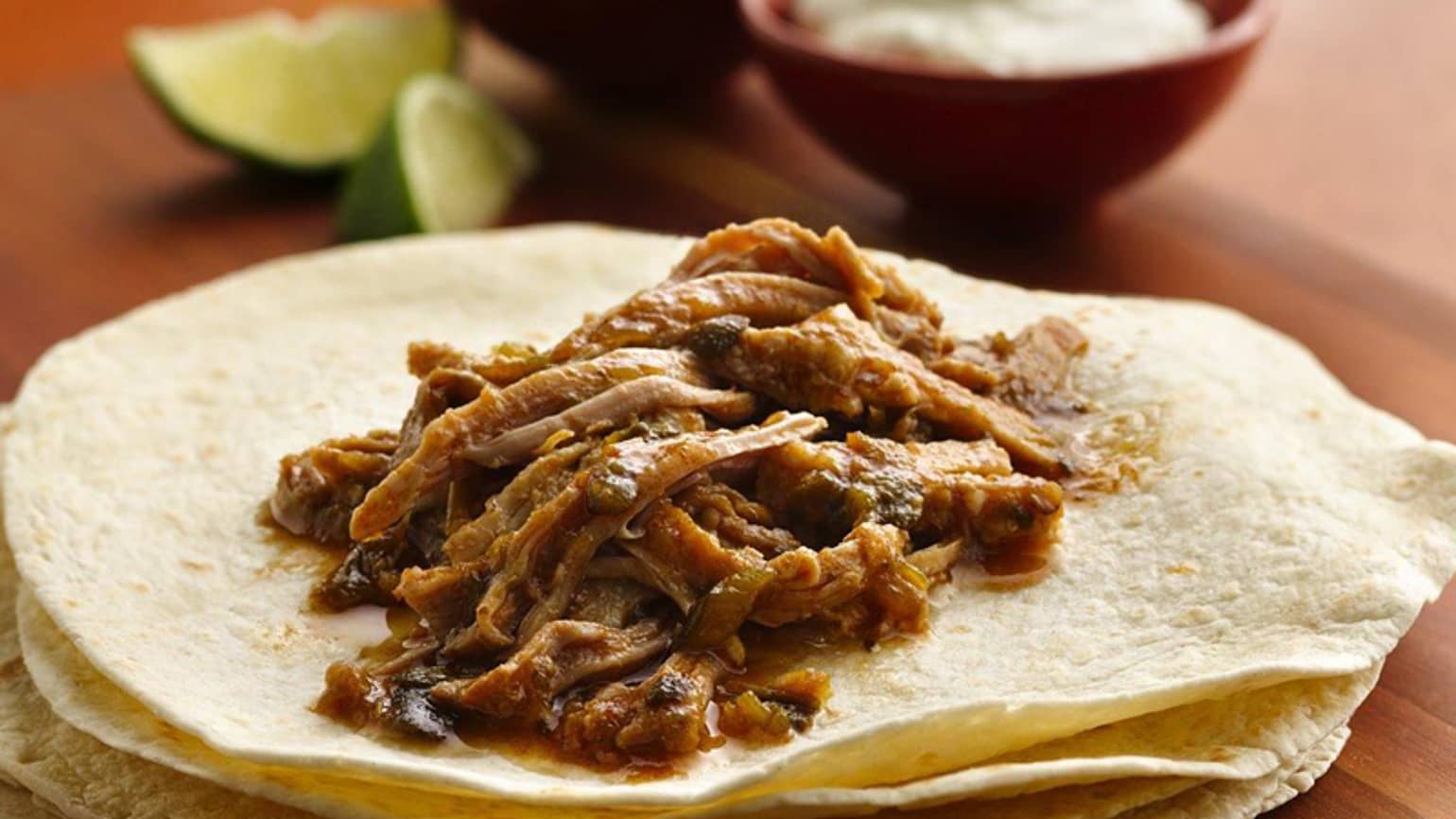 Slow Cooker Pulled Pork Burritos
The pulled pork part of this recipe is one of our staff's personal recipes!
Ingredient List
4 lb (2 kg) boneless pork shoulder blade roast
2 tbsp (30 mL) packed brown sugar
1 pkg Old El Pasoᵀᴹ Chili Seasoning Mix
1 can (156 mL) tomato paste
1/2 cup (125 mL) Old El Pasoᵀᴹ Thick N' Chunky Salsa
3 tbsp (45 mL) apple cider vinegar
1/2 to 3/4 tsp (2 to 3 mL) hot pepper sauce
1 can (14 oz/398 mL) crushed pineapples
3 tbsp (45 mL) vegetable oil, divided
1 1/2 cups (375 mL) diced onions
4 cloves garlic, minced
1 pkg (6 inch) Old El Pasoᵀᴹ Medium Flour Tortillas or 1 pkg Old El Pasoᵀᴹ Hard Taco Shells
Your Favourite Toppings (shredded lettuce and cheese, chopped onions, tomatoes, cilantro)
Preparation
Combine rub ingredients and thoroughly rub into pork. Cover and refrigerate 8 to 24 hours.
Combine all sauce ingredients and set aside.
In a large skillet or pot, heat 2 tbsp of the vegetable oil over medium high heat; brown pork on all sides. Transfer to slow cooker.
In same skillet or pot, heat remaining 1 tbsp vegetable oil and cook onions over medium heat until softened. Add garlic and cook an additional minute. Stir in sauce and bring to a boil; cook and stir for 2 to 3 minutes.
Pour heated sauce over pork in slow cooker. Cover and cook 6 to 7 hours on low heat.
Remove from cooker; cover with foil and let stand 15 minutes. Shred pork using two forks.
While pork is standing; skim fat from liquid in slow cooker. Pour liquid ionto a large pot and bring to a boil. Add shredded pork and cook until heated through.
Warm tortillas or taco shells according to package directions.
Fill warmed shells with pulled pork mixture and top as desired.